​The Portakabin vision is clear and simple: "To provide peace of mind for all our customers across Europe through quality products and services."
It defines our building products and the services we offer to customers. Our commitment to quality is underpinned by our 'right first time' approach and demonstrated by unique assurances like our customer charter and warranty packages, as well as by a number of accreditations and awards.
​Our Values
We believe that living by our values gives us the foundation to create a working environment where our colleagues can feel supported and entrusted to delight our customers as well as being able to enjoy working at Portakabin.
​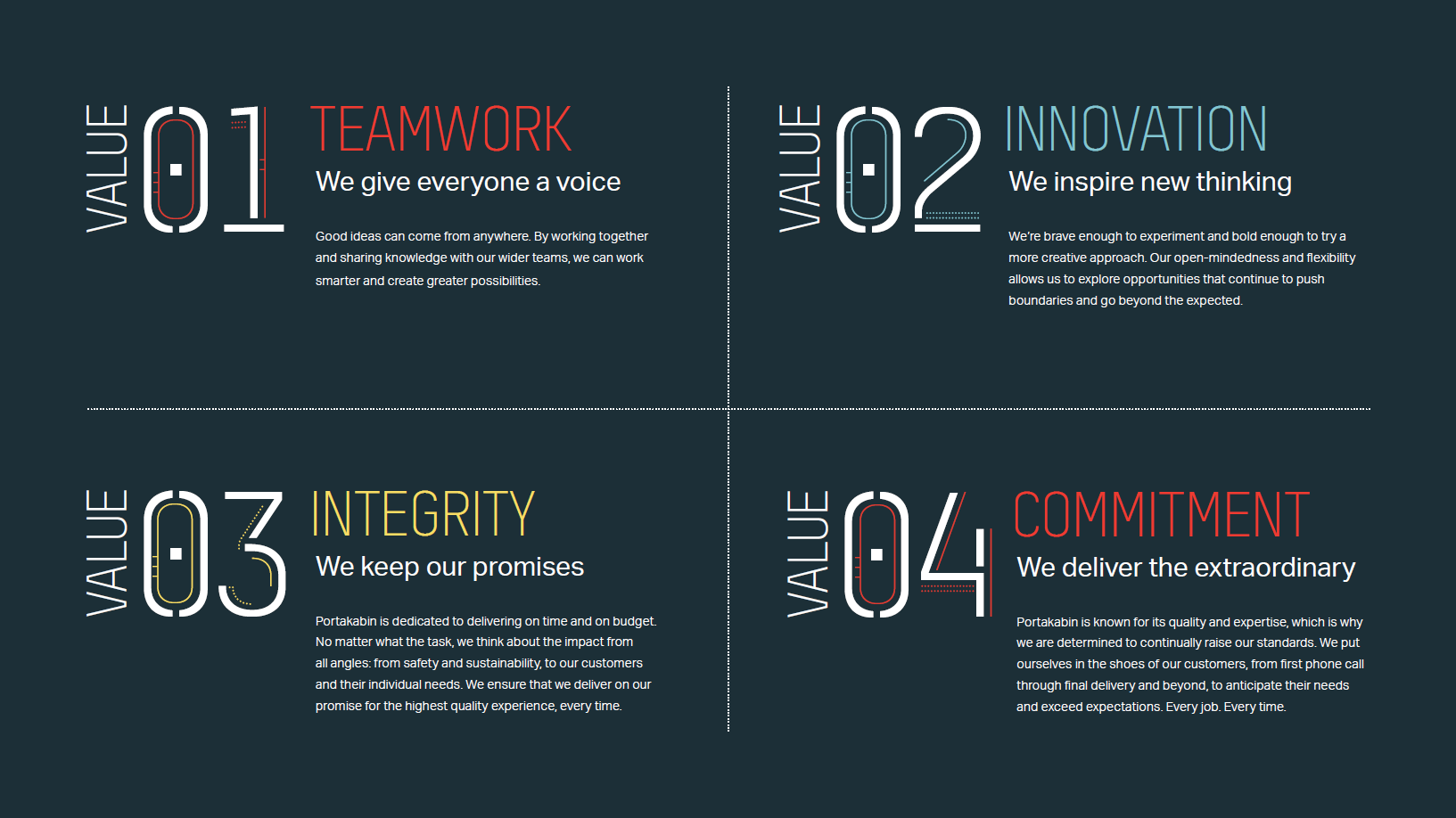 ​
Smart Working Principles
Everyone's needs at work are different so one size does not fit all. Smart working is the opportunity to work flexible hours and from home. A conversation with your manager will be held to determine the best working arrangement to meet your team's requirements. We feel this allows our colleagues to manage their wellbeing and work-life balance by effectively managing their work and personal commitments.
​
​Responsible Business
Our Responsible Business approach is about growing Portakabin as a company and in a way that is beneficial for society. The focus for our activity is to create a positive social impact and go beyond the expected to benefit our customers, our people and the environment. Our targets on maintaining our responsible business approach can be viewed here.
​
Health & Wellbeing
​Through our key focus areas of health and wellbeing, which includes both mental health and physical health, we aim to:
Create a safe and healthy working environment where health risks are prevented and managed

Encourage and support employees to develop and maintain a healthy lifestyle

Erase the stigma surrounding mental health in order for people to talk openly and honestly about mental health in the workplace

Increase resilience by providing tools and techniques for individuals to be able to cope better with stresses in and out of work, on an individual level as well as a team level.
​
Diversity and Inclusion
At Portakabin we have signed a commitment that ensures that we create a fair and diverse working culture, to achieve this we are committed to:
Creating an environment in which individual differences and the contributions of all are recognised and valued.

Providing learning and development and progression opportunities are available to all employees equally.

Ensuring our employment practices and procedures are fair to all.

Selection for employment, promotion, learning and development or any other benefits are on the basis of aptitude and ability.
​
Our Net Zero & Zero Waste Commitments
Our Net Zero roadmap defines the ways in which we reduce the emissions associated with our business, and provide our customers and communities with innovative products and services that help to meet their sustainability ambitions. We'd love you to join us on this journey.
​Portakabin received the Gold award at the Zero Waste Awards in recognition of its achievements in sustainable waste management. The awards recognise excellence in waste prevention and re-use, recycling and energy recovery are open to all organisations in both the public and private sectors.
Hear from your Future Colleagues
Vicky Phillips

Interim Senior BD Manager

My career with Portakabin began over a decade ago on their graduate scheme and I am lucky to have been able to experience a number of roles in that time as I have progressed through the company. I am currently a Business Development Manager, specialising in the health sector. I love my job as I have responsibility for developing business and driving strategy and it's great to see our buildings genuinely making a difference.

Stephen Eayrs

Operations Support Manager

As a skilled manager with over 36 years of experience within the Portakabin Group I have been given many opportunities all through my career. These opportunities have helped me to gain the role of Operations Support Manager Hire England and Wales. From starting as an apprentice plumber, I have held nine different positions for various parts of the business and been supported with training where required and had access to business lead mentors for advice and guidance at every stage.
​
Job Alerts
​Sign up to be notified when we post new roles so you don't miss an opportunity with us!
​